Client
Advanced Rail Energy Storage, LLC
(ARES)
Services
Biological
NEPA
Government Liaison & Relations
Permitting & Compliance Support
Project Highlights
Assisted with BLM ROW acquisition and permitting for first-of-its-kind technology
Coordinated with multiple agencies, two county governments, and public stakeholders
Deliverables
Biological Assessment
Biological Survey Report
BLM Right-of-Way Application
Fatal Flaw Analysis
Multiple BLM and construction management plans
Outreach Materials
Preliminary and Draft Environmental Assessment
Plans of Development
Visual Resource Assessment
Project Dates
January 2013 – Ongoing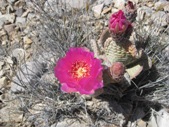 ARES Site Analysis, Natural Resource Surveys, Environmental Assessment, and Permitting Assistance
Clark and Nye Counties, Nevada
Advanced Rail Engergy Storage, LLC (ARES) contracted BEC Environmental, Inc. (BEC) to assist with site selection, Bureau of Land Management (BLM) Right-of-Way (ROW) acquisition, permitting assistance, natural resource assessments, and stakeholder facilitation for the development of a first-of-its-kind, $55 Million, grid-scale rail energy storage development.
BEC assisted ARES with site selection and navigating the National Environmental Policy Act (NEPA) for the project located on land in Clark and Nye Counties managed by the Bureau of Land Management (BLM).
BEC conducted natural resources surveys of the proposed project area for Mojave desert tortoise, birds and bats, sensitive plants, and noxious weeds. BEC developed the Biological Assessment based on survey findings. BEC also evaluated cultural and visual resources.
Mitigation measures were developed for impacts to desert tortoise, horse and burro, and yucca habitat, requiring close coordination with the Nevada Department of Wildlife (NDOW) and U.S Fish & Wildlife (USFWS). BEC prepared the draft Environmental Assessment (EA), incorporating the mitigation measures to minimize potential impacts. BEC briefed local planning agencies on the project and conducted informal and formal outreach meetings to present the draft EA to affected communities.
Following receipt of the BLM ROW grant, BEC continues to support coordination and communication between ARES and BLM, USFWS, NDOW, Nevada Department of Transportation, Clark County, Nye County, the Public Utilities Commission of Nevada (PUCN), and the local transmission service provider. BEC assisted with local permitting processes and preparation of BLM-required plans. As the project moves into construction, BEC continues to provide environmental permit assistance and coordination support.