Client
The Louis Berger Group, Inc.
Services
Biological
Naturally Occurring Asbestos Air Sampling Support
Project Highlights
Compliance Monitoring
Pre-Construction Desert Tortoise Clearance Surveys
Worker Environmental Awareness Training
Deliverables
Compliance Monitoring Summary
Project Dates
December 2014 – April 2017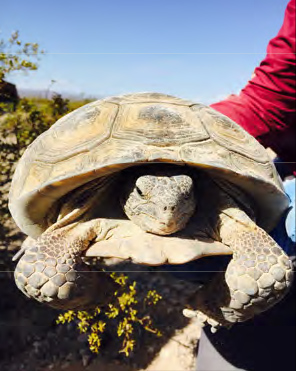 I-11 Boulder City Bypass Phase 2 Compliance Oversight for Desert Tortoise Conservation
Boulder City, Nevada
The Louis Berger Group, Inc. contracted BEC Environmental, Inc. (BEC) to provide biological opinion and compliance support for the construction of Phase 2 of the Interstate 11 Boulder City Bypass Project. The 12-mile highway project connects the existing U.S. Highway 93/95 from Las Vegas directly to the O'Callaghan-Tillman Memorial Bridge.
BEC was assisting in overseeing compliance with conservation and mitigation measures related to the threatened Mojave desert tortoise (Gopherus agassizii) during construction. BEC's support has included:
Assisted in removing tortoises from harm's way as needed.
Conducted preconstruction clearance surveys.
Conducted Worker Environmental Awareness Training.
Ensured construction activities remain in the cleared area and required mitigation measures are followed
Monitored construction activity to ensure compliance with the biological opinion stipulations.
Monitored project access routes.
Provided information regarding potential environmental issues to construction managers to allow them to maintain schedules and avoid issues.